Imagine the Universe! Satellite Showcase: Archives of Satellites
Imagine the Universe! Satellite Showcase Archive
Here you can find the collected archives from all our satellite showcases, present and past.
The Fermi Gamma-Ray Space Telescope is the latest high energy gamma-ray observatory launched by NASA. It is designed to study energetic phenomena from a variety of celestial sources. Fermi is a collaboration between NASA, the Department of Energy, and science communities in six other nations.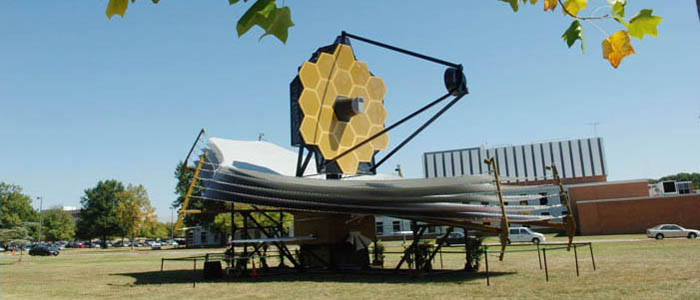 The James Webb Space Telescope is a very large and powerful telescope that will study the Universe from space at infra-red wavelengths. It is currently in development and scheduled to launch in 2018. Webb is an international collaboration between NASA, the European Space Agency (ESA), and the Canadian Space Agency (CSA). The NASA Goddard Space Flight Center is managing the development effort and Nobel-prize winning astrophysicist, Dr. John Mather, is the Senior Project Scientist for this program.
Suzaku is the latest in a series of Japanese X-ray astronomy observatories that has NASA participation. It uses lightweight X-ray mirrors and three different instruments to detect X-rays from celestial objects such as black holes, supernova remnants and clusters of galaxies. It uses a revolutionary X-ray spectrometer called a microcalorimeter. This device measures the energy of an X-ray by taking its temperature. NASA's Goddard Space Flight Center provided the X-ray mirrors and the X-ray microcalorimeter.
| | | |
| --- | --- | --- |
| Fermi | JWST | Suzaku |
| Swift | eLISA: the enhanced Laser Interferometer Space Antenna | The Wilkinson Microwave Anisotropy Probe (WMAP) |
| A Tribute to the Compton Gamma Ray Observatory! | So You Want Science? Just ASCA! | Ginga - The Third Japanese X-ray Astronomy Mission |
| Europe's X-ray Multiple-Mirror Mission (XMM) | | |