Resources on Cygnus X-1
Finding the Volume of Cygnus X-1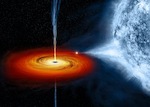 Recap: Your astronomy professor has tasked the class with determining the mass of the black hole candidate, Cygnus X-1. You thought of three possible ways to do this, one of which will give you the right answer. You've decided to try using the relationship between density, mass and volume.
You decide to start by finding the volume of Cyg X-1. In your university's library you find the following image:
Image of Cygnus X-1 and its companion, HDE 226868, from the optical Schmidt telescope at Palomar Observatory. (Credit: Palomar Observatory)
The image was taken by the optical Schmidt telescope at the Palomar Observatory and shows the area of sky occupied by the black hole Cygnus X-1 and its companion HDE 226868.
Distant background stars show up as isolated bright (yellow or white) pixels. The difference in intensity seen in these pixels is due to fluctuations in the background.
Look closely at the image to see if you can find the volume occupied by Cygnus X-1. Here's a close-up that might help.
Close up of the region of space where Cygnus X-1 lies, from the optical Schmidt telescope at Palomar Observatory. (Credit: Palomar Observatory)