Profile: Dr. Barbara Mattson
Dr. Barb Mattson
Astronomy Educator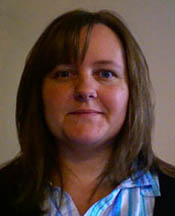 Dr. Barbara Mattson has developed educational materials for NASA since 2005. She is currently the Acting E/PO Lead for NASA's Physics of the Cosmos and Cosmic Origins Programs, Acting E/PO Lead for the High Energy Science Archive Research Center (HEASARC), and E/PO Lead for the Suzaku and Astro-H missions at GSFC. Dr. Mattson was a co-project leader on the Cosmic Times project, a suite of educational materials that traces our changing understanding of the nature of the Universe from the first confirmation of General Relativity through the discovery of dark energy and beyond.
She brings to her work a lifelong love of astronomy and science, starting with naturalist-led night-sky watching as a kid at several of Minnesota's State Parks. Her own career as a science educator began when she was a teenager as a summer volunteer for an exhibit of animatronic dinosaurs at the Science Museum of Minnesota. Now she pursues this passion fulltime in her roles as an education scientist at GSFC.
Dr. Mattson has given a number of educator workshops nationwide at locations that include the National Science Teacher Association national and regional conferences and the Celebration of Teaching and Learing.