Defense Meteorological Satellites Program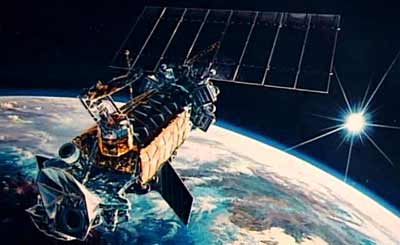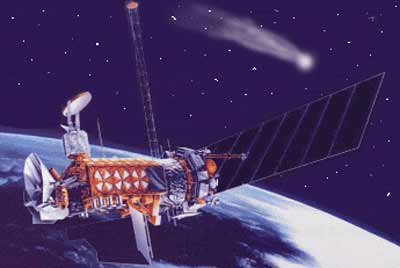 The Defense Meteorological Satellite Program, or DMSP for short, was a series of satellites launched by the United States Air Force to monitor meteorological, oceanographic, and solar-terrestrial physics. In particular, the sub-series called Block 5D had several spacecraft which carried gamma-ray detectors.
Lifetime: August 1962 (launch of first Program 35 spacecraft; the original name of the DMSP program was Program 35) - present
Country (primary): United States
Primary Science
The primary objectives of the DMSP program is to provide global visual and infrared cloud cover data and specialized environmental data to support Department of Defense operational weather analysis and forecasting requirements.
High Energy Science
Several of the DMSP Block 5D satellites carried gamma-ray detectors which detected a few cosmic gamma-ray bursts and were used to help triangulate positions for those bursts.
Science Highlights
Detected several gamma-ray bursts, data used as part of the Interplanetary Network to localize gamma-ray bursts
Links to more information
DMSP 8
Also known as DMSP-F8 or DMSP 5D-2/F08
Lifetime: June 1987 - August 1994
DMSP 9
Also known as DMSP-F9 or DMSP 5D-2/F09
Lifetime: February 1988 - April 1992
DMSP 10
Also known as DMSP-F10 or DMSP 5D-2/F10
Lifetime: December 1990 - September 1994
DMSP 11
Also known as DMSP-F11 or DMSP 5D-2/F11
Lifetime: November 1991 - May 2000 (end of data)
DMSP 12
Also known as DMSP-F12 or DMSP 5D-2/F12
Lifetime: August 1994 - July 2002 (end of data)
DMSP 13
Also known as DMSP-F13 or DMSP 5D-2/F13
Lifetime: March 1994 - November 2009 (end of data)
DMSP 14
Also known as DMSP-F14 or DMSP 5D-2/F14
Lifetime: April 1997 - August 2008 (end of data)
DMSP 15
Also known as DMSP-F15 or DMSP 5D-3/F15
Lifetime: December 1999 - Present