Vela 5A/B and 6A/B
Vela 5A/B and 6A/B
The Vela 5B spacecraft in low Earth oribt. (Credit: USAF)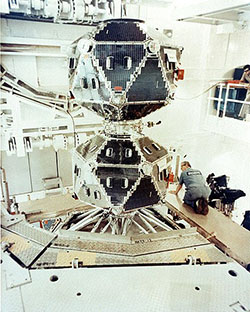 The Vela 5A and 5B satellites before launch. (Credit: LANL)
Lifetime:May 1969 - April 1979 (Vela 5A)
May 1969 - June 1979 (Vela 5B)
April 1970 - March 1972 (Vela 6A)
April 1970 - January 1972 (Vela 6B)
Portion(s) of spectrum studied:
Country (primary): United States
Primary Science
The Vela series of satellites were developed to monitor the Earth for violations of the Nuclear Test-Ban Treaty signed by the United States, the Soviet Union, and the United Kingdom in 1963. Under the treaty, tests of nuclear weapons were banned. A nulcear test would create a burst of gamma-ray emission, which would have been detected by the Vela satellites. The satellites were launched in pairs which were each able to monitor half of the Earth for flashes of gamma-rays.
High Energy Science
The Vela satellites discovered bursts of gamma-rays, but they did not originate from the Earth. The origin of these brilliant flashes of gamma-rays, now called gamma-ray bursts, or GRBs for short, was a mystery. In addition, satellites' X-ray detectors monitored the sky and were able to monitor the variability of X-ray binaries and record transient behavior.
Science Highlights
Initial discovery of gamma-ray bursts.
Detection of 73 gamma-ray bursts from 1969 to 1979.
Co-discovery of X-ray bursts (Vela 5B with the Astronomische Nederlandse Satelliet
Instruments
Scintillation X-ray detector (XC), 3-12 keV
Gamma-ray detectors, 0.3-1.5 MeV
Links to more information