The Minds atop Mount Wilson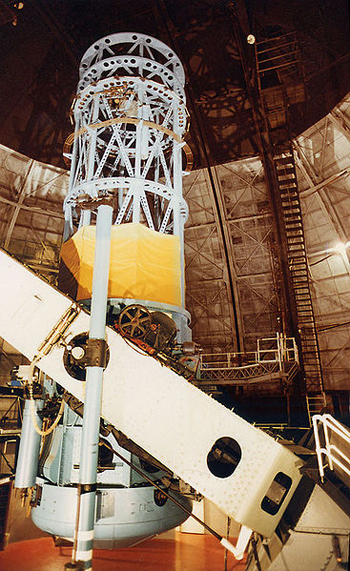 Image credit: Photo by Andrew Dunn, 1989, licensed under Creative Commons Attribution-Share Alike
High above Pasadena, California in the San Gabriel Mountains, the astronomers at the Carnegie Institution's Mount Wilson Observatory are changing our view of the Universe. Who are these scientists?
Athlete-Scholar Unveils the Future of the Universe
Born in Marshfield, Missouri in 1889, Edwin Powell Hubble's early life centered on athletics, primarily track and field events. At 6 foot 3 inches in height, he was quite sucessful, even setting an Illinois state record for the high jump.
At the University of Chicago, he focused on mathematics and astronomy. His studies took a different direction when he attended Oxford University as a Rhodes Scholar. There he studied Roman law and Spanish but still made time to compete in water polo and field events. He returned to the US in 1913 to teach high school physics and Spanish.
The next year, Hubble returned to the University of Chicago to earn his PhD and began researching faint nebulae at the Yerkes Observatory. However, his research was interrupted when the US entered the Great War, and he quickly joined the army. Hubble served in France until the end of the war. Then he returned to civilian life to take up a position that had been offered to him two years earlier at the Mount Wilson Observatory.
Former Mule-Team Driver and Janitor Helps Discover Expanding Universe
Milton Lasalle Humason was born in Dodge Center, Minnesota in 1891, but moved to California with his family as a child. Having left school in the eighth grade, Humason received no formal training as an astronomer. In fact, his career at Mount Wilson began as a mule-team driver for the pack trains that carried large parts of the telescope and its building to the top of Mount Wilson during the observatory's construction.
When the telescope was completed 1917, Mr. Humason was hired as a janitor and electrician. His intelligence and curiosity were soon noticed, and it wasn't long before he was promoted to night assistant on the 60-inch telescope.
Working under the observatory's director, Dr. George Ellery Hale, Humason became an expert observer. Dr. Hale recognized his abilities and appointed him to the observatory's scientific staff in 1919. Humason soon became an expert at measuring the redshifts of distant nebulae and the chief assistant and co-worker with Dr. Hubble. •