Andromeda Nebula Lies Outside Milky Way Galaxy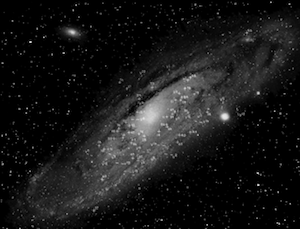 Astronomer Edwin Hubble, of the Mount Wilson Observatory at Pasadena, California, has solved the mystery of the spiral nebulae. The spiral nebulae look like hazy pin-wheels in the sky. He has determined that these objects are much more distant than previously thought. Therefore, they are distant galaxies and not part of our own Milky Way galaxy. In the process, Dr. Hubble was also able to determine the distance to the spiral Andromeda nebula.
"Great Debate" Resolved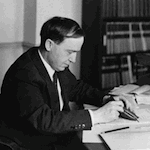 Dr. Hubble's discovery settles the "Great Debate" over the size of our own Milky Way galaxy. It also settles the distance to spiral nebulae and what they are.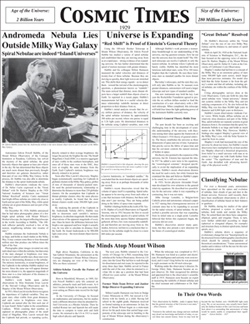 Download the PDF newsletter